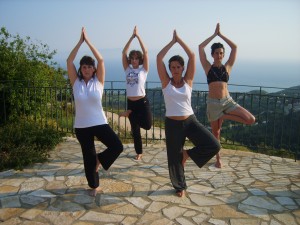 A yoga retreat can be a fabulous way to deepen your practice, forge new friendships, and really let go and relax……there are thousands of wonderful locations in the UK and abroad, some of which are geared up specifically for yoga with all props provided.
Previous retreats I have been involved in include a weekend immersion at Duncton Mill in England, focusing on opening the heart,  and a week long retreat on the Greek island of Kephalonia…take a look at the pictures…..I want to go back!
If you are interested in investing in a yoga holiday, there is another option that works very well. If a small group of friends book a holiday, (ensuring that there is an indoor space big enough for a yoga practice should the weather be less than warm),  I can come along as your guest teacher and live, work, play and cook alongside you. This liberates me from the organisation of booking a more formal yoga retreat, (which can become prohibitively expensive) and gives me more time to do what I do best, and enjoy most, which is to teach yoga.  This method works very well with small groups of friends, or people who know each other from class. If you love yoga, why not make it the focus of your next holiday? My  friend and colleague Neelu owns and runs a yoga retreat centre in sunny Cyprus, you can find her contact information on the Links page. This would be a perfect location for a small group of friends to enjoy a yoga holiday, with wonderful home cooked vegetarian food to enjoy as well as lots of yoga and the promise of sunshine……
If you are interested in organising a yoga holiday get in touch for details of availability and costings.
Kephalonia Retreat
Duncton Mill Retreat