Workshops are a great way to deepen your yoga practice, as they give you an opportunity to work very closely with your teacher in a small group setting.
Workshop subjects are many and varied, here are a few examples:
yoga to alleviate common conditions such as back pain
specific types of asana (postures) such as inversions or backbends
incorporating philosophy into your practice
vinyasa flow
restorative yoga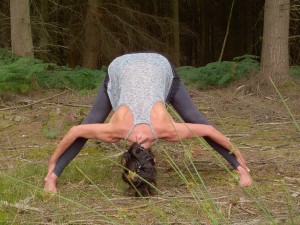 In January 2010 I ran a vinyasa flow charity event for Project Air, an organisation that sends yoga teachers out to Rwanda and other troubled areas of the world to work with the women and children survivors of the atrocities they have endured. The participants raised £500 in two hours for this worthy cause by getting their groove on to a backbeat of African Rhythms! (See links page for the website of this charity)
I have been  involved with the SOS show: an event that takes place in various venues around the country and brings together experts from many fields who can help individuals who are starting over after a traumatic life changing event such as divorce, redundancy or bereavement, or thinking about making major life changes of some kind. I offer an introduction to yoga at these events, giving informal talks on the possibilities that yoga could hold as a tool to help move through turbulence in life, to gain strength both physically and psychologically, and to become flexible not only in body, but in the ability to roll with the changes that life brings. At these events there are opportunities to try simple yoga techniques including movement, breathwork and positive visualisation, or just to put your feet up in a nice calm space, and you are welcome to just pop along and join in, no special equipment or clothing required, just an open mind.
Details of forthcoming workshops will be posted on this site, and if you have a special request for a workshop topic, let me know! In the meantime, take a look at the excellent range of one day workshops available from the British Wheel of Yoga. General days are open to all, IST days (in service training days) are for yoga teachers and student teachers only.  The BWY website details are on the links page, go to the South East Region website for local workshops, look in "Events" for courses and "Our Region" to find contact details for our area rep Sarah Hallett. The BWY draw in some highly respected teachers such as Paul Fox, Ruth Gilmore, and Gary Carter to name but a few and they are very competitively priced. Well worth a look.