Have you considered offering a yoga class to your employees as part of a staff training day? I have taught many such classes and although there were a few skeptical faces at the beginning, people quickly cottoned on to the truth that yoga IS for every body, and can be good fun as well as excellent exercise! I have found that many people who have attended such an event have subsequently taken up yoga on a regular basis and really felt the health benefits.
Some companies take it a step further by offering a regular yoga class to their employees either after work or as part of the working day, as it can improve staff relations, enhance productivity and creativity, and alleviate common health complaints such as lower back problems and neck and shoulder tension, that if unresolved not only cause pain and suffering but also time off sick from work…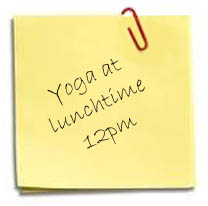 I have worked for a company called Water Wellpoint who go into workplaces and supply a comprehensive health screening service, input from an experienced personal fitness trainer and a yoga class to all employees. Information about Water Wellpoint can be found on the links page.
I have found that staff groups practicing yoga together can be very beneficial for building and reinforcing good staff relations and  there is usually a lot of laughter involved!  I have been very impressed with how willing staff have been to give yoga a try,  especially those who have never done yoga before, and may have believed it was not something they would ever be able to do. Corporate yoga classes are fun, light-hearted and accessible, something that the whole staff group can practice together irrespective of age or general fitness levels.  Confidential health questionnaires are gathered from all participants prior to the event so that I can tailor the class to suit each person and make the practice as safe and relevant as possible.
If you wanted to offer a yoga class to your staff please call me to discuss your requirements.
Cancellation policy: One weeks notice required for cancellation of corporate yoga  classes. If less than one weeks notice is given the full charge will be applied.