Monday and Thursday evening classes are at
Merrow Village Hall
177  Epsom Road
Guildford
Surrey
GU1 2QY.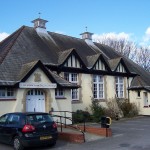 The hall is set just back from the Epsom Road as it comes into Merrow.
Coming from Guildford you will take a turning on the left before you reach the traffic lights at Merrow. Coming from Merrow, you will go past the shops then take a turning on the right that leads to the Hall and the car park.
Once you have parked, come into the hall via the set of doors towards the left of the building. You will see two sets of double doors in front of you, come through the set on the right and that is where you will find us. Come on in!
x
Michelle