Wednesday evening classes are held at
Burpham Village Hall
Burpham Lane
Guildford
Surrey
GU4 7LP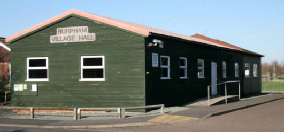 If you are familiar with the Burpham area, home to Sainsburys and Aldi it is easy to find.
Burpham Lane is just off the A3100 London Road, and the Aldi supermarket is on the corner of Burpham Lane.
Turn in to Burpham Lane (Aldi supermarket will be on your left) and continue down this road for about half a mile. The village hall is on the right and there is a car park at the back. Once you have parked your car, walk back round to the front of the building (there is movement activated lighting) and in through the front door. Leave your shoes in the hallway and coats etc on the kitchen table (straight ahead to the kitchen).The hall is through the door on your right, please bring any valuables with you into the hall for safe-keeping.  As we have two classes back to back on a Wednesday, there should be enough car parking spaces for you all. I will make sure that the first class finishes on time so that the car park is clear for the second class. Come on in!
x
Michelle
Michelle