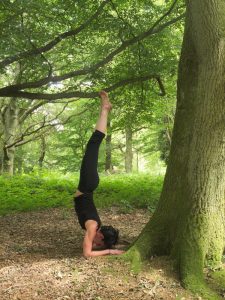 Feeling Wobbly?
In the last four weeks we have all experienced massive amounts of change in our lives and have all coped in different ways. I have been hearing from students that they are not sleeping well, finding it impossible to 'switch off' or feeling very lethargic. I have been experiencing high levels of what I call "background anxiety" – lots of little things, none of which amount to much on their own, but when layered together render me unsettled. This is being exacerbated by social isolation: I can't sit down with a trusted friend face to face and talk it all through, have a cry, a cuppa and a big long hug. Screens are great but they filter out so much; there is something about a two-dimensional interaction with another person that just doesn't feel the same.
I have been very active and productive since lockdown: digging vegetable patches, sewing seeds, helping people move house, sorting out my own home to make room for more people to live here, taking on more domestic responsibilities to support my new larger family and launching my virtual business. But this activity has had a manic feel to it. With the loss of all my usual structure, I have struggled to make days that have a pattern or a rhythm. I have found it hard to stop, when there is so much to do. And unsurprisingly this has affected my sleep. Waking in the night with my mind racing and unable to get back to sleep. The flip side of this has been days when I am crushed by a feeling of lethargy so intense that I have spent whole days on the sofa with the TV on drifting in and out of sleep. In short I have been wobbly. Things are beginning to settle now and I am just beginning to find some structure, to slow things down, and I have a feeling that I am not the only one who has been struggling.
Those of you who know me know that I am very up front about my struggles. The reason I am at the front of the class teaching you about the philosophy and practice of yoga is not because I have all the answers, it's because I am searching for them. I am a recovering perfectionist with more than a touch of OCD which manifests as extreme tidiness and very high standards of what constitutes a clean house. I know when I am going into a wobble because my usual patterns of behaviour become intensified, and it is EXHAUSTING. I can hear the inner critic berating me, and the voice is insidious and unceasing. But I know it's the voice of my inner critic, it is not who I am, nor is it speaking the truth. I can detect a space between "me" and the inner critic and I can also hear another kinder voice. She is saying things like "If you know that hoovering the living room carpet again will bring your anxiety down a little bit, then you go ahead, its OK." This voice I can sense is smiling as she watches me attack the hair trap in the shower with an old toothbrush at 3am. She is watching me go through my rituals of craziness but she never stops loving me or believing that I will stabilise eventually. And I trust her. In yoga this voice is called Aadesh, your heart voice, and your Aadesh always has your best interests at heart and guides you well. I am so grateful that yoga, and psychotherapy enabled me to hear this voice. Because being locked in with just my inner critic to listen to is a one way ticket to a nervous breakdown. For me this whole process has been akin to being washed overboard ship into a stormy sea, struggling and splashing to keep my head above water, incredibly fearful of what creatures may be lurking beneath the waves, alternating between grit and determination, and despair and panic, and eventually coming to my senses washed up on an unfamiliar beach, tattered, bruised, but alive, and ready to get up and explore this new terrain and find a new way to live.
There have been some positives. Many things now take longer than they did before and the pace of life is slower. A trip to the supermarket now has to be planned like a military operation: rucksack CHECK! Walking boots CHECK! Book to read in 45 minute queue CHECK! A list of EVERYTHING we have run out of to ensure I don't have to go again for a week SIR YES SIR!
Because of the shortages I have been cooking and baking again and have become a dab hand at making houmous, which I can say with absolutely no modesty is damn fine (recipe at the end of this article) and had the time to make pitta breads from scratch which are so much nicer than anything you can buy ready made. I have spent time in conversation with my daughter and her partner in the evenings, as we are not allowed out and have been teaching them both yoga. I am enjoying the break from my usual very busy teaching schedule, and even to some extent enjoyed isolation. I am woken in the morning by the dawn chorus instead of my neighbour starting up his truck at 5am and I frequently don't know what day of the week it is which evokes the delicious memory of school holidays as a kid. The air is clearer the roads quieter and spring is filling the planet with new life once again.
I closed down my classes on the 20th March so it has only been three weeks, but what an intense three weeks it has been! So much learned. So many clean carpets hoovered (again).
So if you have been wobbly, please be kind to yourself and tune in to your aadesh. You are not alone. Your crazy yoga teacher is having exactly the same struggles as you. And probably everyone else in the world is too!
Take care of yourselves
Xx
Michelle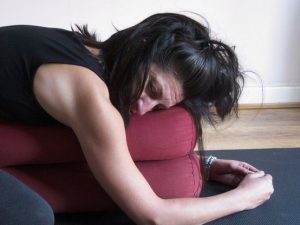 Best Houmous Recipe
Whether you use dried chick peas and soak them overnight and cook them, or tinned chick peas, they need to be cooked again in a pan of boiling water with a teaspoon of bicarbonate of soda. This softens the outside of the peas and makes the finished product very creamy. You also need to grate the garlic into the lemon juice and let it sit for 10 mins, and this takes away the 'raw garlic' taste that scuppers many a home-made houmous. You will probably find you need next to no olive oil for this recipe.
Recipe
Can of chick peas or equivalent amount of dried soaked and cooked chick peas
Two tablespoons of tahini paste
juice of one lemon
Two cloves garlic
Olive oil
Half teaspoon of cumin powder
One teaspoon of salt
Sumac or paprika to sprinkle over the top
Method
Put chick peas in pan of boiling water with one tsp bicarb and simmer for 20 mins. Drain and rinse.
Grate the garlic into the lemon juice and leave to stand for 10 mins
Place tahini salt cumin chick peas lemon juice and grated garlic into a food processor and pulse til smooth. If you want a thinner texture add a little olive oil.
Sprinkle sumac or paprika over the top and serve.
---